USAF demo shows Raytheon's directed energy system engage multiple UASs
News
April 30, 2019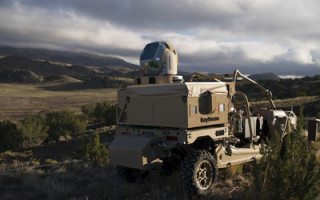 WHITE SANDS MISSILE RANGE, N.M. During a U.S. Air Force (USAF) demonstration, the Raytheon-built advanced high power microwave (HPM) and mobile high energy laser (HEL) systems engaged and defeated multiple unmanned aerial system (UAS) targets.
Raytheon's HEL and HPM were the only directed energy systems that participated in this Air Force experimentation demonstration, Raytheon officials say. The event expanded on previous directed energy demonstrations such as a U.S. Army directed energy exercise held in 2017.
The HEL system, paired with Raytheon's Multi-spectral Targeting System, uses invisible beams of light to defeat hostile UASs. Mounted on a Polaris MRZR all-terrain vehicle, the system detects, identifies, tracks, and engages UASs.
Raytheon's HPM uses microwave energy to disrupt UAS guidance systems. High power microwave operators can focus the beam to target and defeat UAS swarms.