OpenGL SC 2.0 for shader programmable safety critical graphics released by Khronos
News
April 29, 2016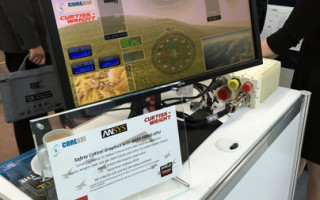 MUNICH, Germany. Officials at the Khronos Group consortium announced the availability of the OpenGL SC 2.0 specification for bringing programmable graphics to systems that require system safety certification such as commercial and military avionics systems as well as automotive safety systems. Khronos officials made the announcement at the Aviation Electronics Europe show held last week in Munich.
The OpenGL SC 2.0 API specification was developed by experts on the Khronos Safety Critical working group to address the stringent requirements of high reliability display system markets, such as Federal Aviation Administration (FAA) DO-178C and European Aviation Safety Agency (EASA) ED-12C Level A for avionics, and ISO 26262 safety standards for automotive.
The release will enable high reliability system manufacturers to take advantage of modern graphics programmable shader engines while still meeting the highest levels of safety certification.
OpenGL SC 2.0 is a subset of OpenGL ES 2.0 that includes GLSL-based programmable shaders to enable enhanced graphics functionality, with increased performance and reduced power. It removes all debug functionality from OpenGL ES 2.0, but integrates the OpenGL robustness extension into the core specification for scheduling and memory access integrity. OpenGL SC 2.0 is designed to be both deterministic and testable while keeping compatibility with existing OpenGL ES 2.0-capable silicon, enabling the immediate deployment of high-volume desktop, mobile, and embedded silicon solutions.
"OpenGL SC 2.0 marks the start of a new era of Safety Critical standards by the Khronos group to address a growing industry need for safety critical technologies," says Erik Noreke Technology Visionary and chair of the Safety Critical working group. "With smart technologies becoming more and more prevalent in daily life with such things as autonomous vehicles and operator assistance."
OpenGL is pervasive worldwide, with 1.7 billion devices shipping with the software in 2015, he adds.
The programmable shaders will also improve the symbology and graphics quality in avionics displays, Noreke explains. It takes the graphics of modern mobile phones and adapts them for safety critical systems. "The challenge was making them deterministic and guaranteeing that determinism to make sure the system could comply with standards such as DO-178C.
Also remarkable was the speed of this standardization process as it only took eight months, which is quite fast, Noreke notes.
OpenGL SC 2.0 graphics drivers were displayed by CoreAVI running on Curtiss Wright's rugged VPX3-133 SBC (NXP QorIQ T2080) and VPX3-716 COTS graphics module executing Wind River VxWorks RTOS and Presagis' VAPS XT HMI graphics development tool at the event in Germany.
"OpenGL SC 2.0 enables avionics, automotive, and safety critical system manufacturers to unlock the power per watt performance capabilities of modern graphics processors utilizing programmable graphics pipelines," says Steve Viggers, vice president of software at CoreAVI.
CoreAVI's OpenGL SC 2.0 drivers support AMD, ARM, NXP and Intel processor families and are designed to facilitate graphics subsystems running on multiple virtualized guest operating systems, secure partitions and multicore platforms.
Creative Electronic Systems (CES) officials also announced in Munich the adoption of CoreAVI's TrueCore technology as part of its strategic partnership with CoreAVI. CES engineers are now integrating CoreAVI's software GPU monitor, TrueCore, on its rugged GPU board: the VGP-2870, which enables a path to DAL-B certification (DO-254 / DO-178) for safety-critical video applications.
For more information, visit http://www.khronos.org/safetycritical.